Human Resources
Valuesimpact
A web application for optimizing the choice of personnel through an online tool with an automated creation of evaluation.
Read on
USED TECHNOLOGIES
PHP, HTML+, CSS
USED SERVICES
IT Consulting, Design, Development & Support

Initial situation
In a new strategic direction, our client had the goal of specializing in value-based recruiting for companies. This is intended to achieve innovation leadership in the industry and even higher added value for customers. The idea for this application and the basic concept has already been worked out previously.
Solution
The solution aims to show corporate and team culture and to attract matching candidates. This is implemented with various questionnaires for different stakeholders. Firstly, the values of the company and team are gathered. In the second step, the values of the candidates are assessed. Using the data obtained, the solution creates graphical matching reports for each candidate in the process.
By demonstrating the current and desired team culture, HR and the department can optimally design search profiles. These more detailed profiles enable a faster and higher quality staffing of vacancies.
Companies can no longer only consider the professional qualifications of candidates, but also attract candidates who have the highest cultural fit.
This positively affects authentic employer branding and candidate experience.
Result
In 2018, Valuesimpact won over the jury of the Headhunter of the Year Awards and was honoured in the innovation category.
The solution is the central component of our client's digitalization strategy and an excellent companion for recruiting processes.
Candidate Experience, the quality of the staffing and the corporate and team culture are sustainably positively influenced. As an innovative solution, Valuesimpact offers a clear added value in recruiting for many different companies and industries.
Dr. Terhalle und Nagel has positioned itself as an innovation leader in the industry with this novel solution.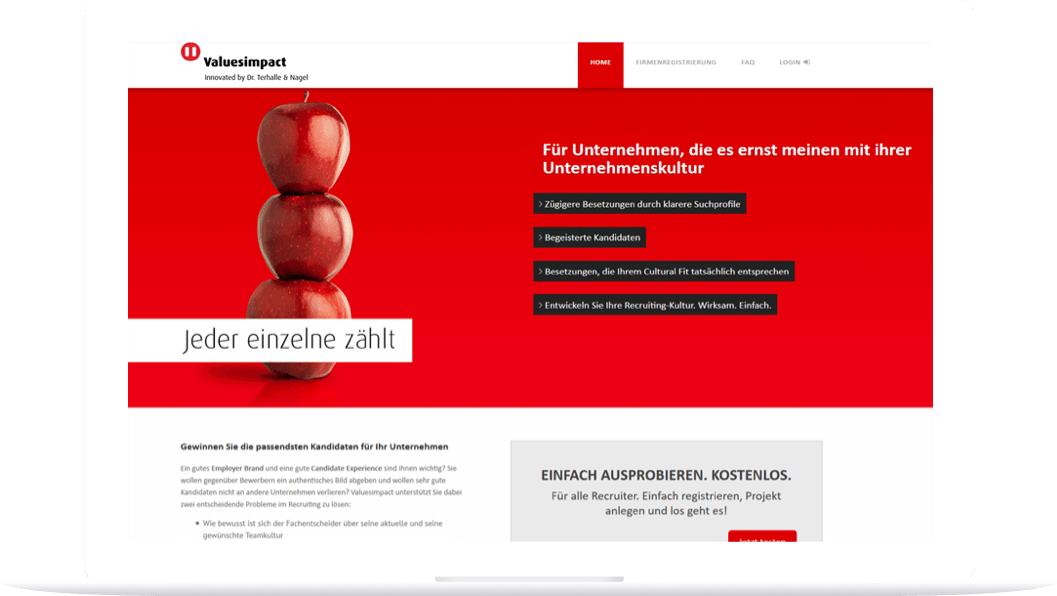 Awarded innovative tool
Valuesimpact is the ideal tool for value-based recruiting. With this novel approach, Dr. Terhalle & Nagel was awarded the "Headhunter of the Year" award for innovation. The solution combines digitalization with team culture and value-based recruiting for clients.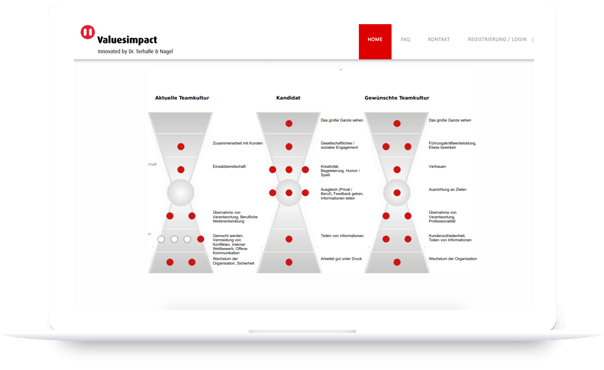 Intuitive handling
The target group of the solution are the business and HR departments of companies and their candidates. Special attention was paid to an easy usability and a well designed UX - making the solution easy to use for everyone.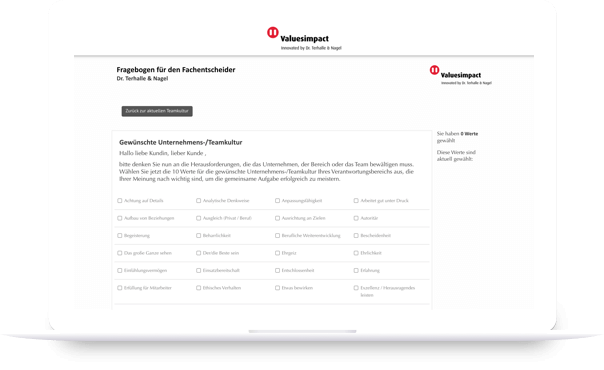 Advanced role-rights concept
In a mature role rights concept, permissions of individual user groups are defined and it is ensured that information reaches the recipients. Reports are created and provided automatically and individually for candidates, decision-makers and recruiters.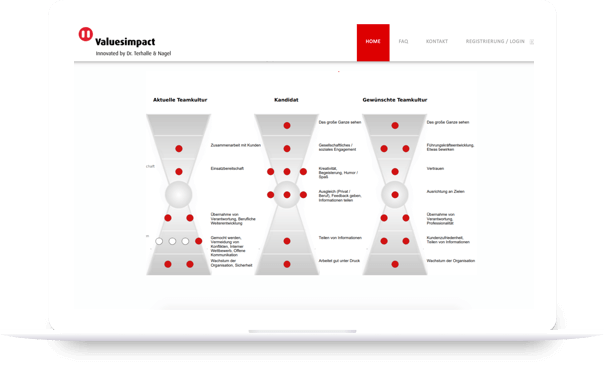 Our clients

love what we do
"Together with UHP, we have developed Valuesimpact in a very short time - an award-winning tool that allows us to offer our customers real added value. We were especially impressed by the way the UHP team thought along. The result is great and we look forward to continuing our collaboration."
Dr. Johannes Terhalle
VALUESIMPACT
Headquarters
UHP Software GmbH
Hilpertstraße 20
64295 Darmstadt