Did you know that your business is only as strong as your software product is?
That is why it is crucial to choose the right software house for your project.
However, it is hard to choose between so many options that exist on the market. In addition to that, you also have the option of offshoring or near shoring your project. Here's a list of 6 steps that will help you to get your money's worth and choose the software house that best suits your needs.
STEP 1: Turn your needs into objectives
Before you start searching for a software house, prepare the scope of your project. You need to know the size of your project, planned budget, possible deadlines, and ideally, some project specifics such as technologies or programming solutions needed. In other words, translate your needs into objectives- that way it will be easier for the software house to execute your big idea.
If you are uncertain about these questions, do not worry! In that case, choose a software house that offers Discovery Workshops The Discovery workshop is done before the start of the project development and helps to outline all the important elements of your project.
STEP 2: Do your research
This might be the most important step of all. After putting your priorities in order, research possible options online. And don't forget offline by asking around - word of mouth goes a long way as the recommendation is often a more trustworthy choice.
And if there is little information available on your potential software house, reach out and ask them directly for references. Any company that is confident enough in their expertise will happily provide them.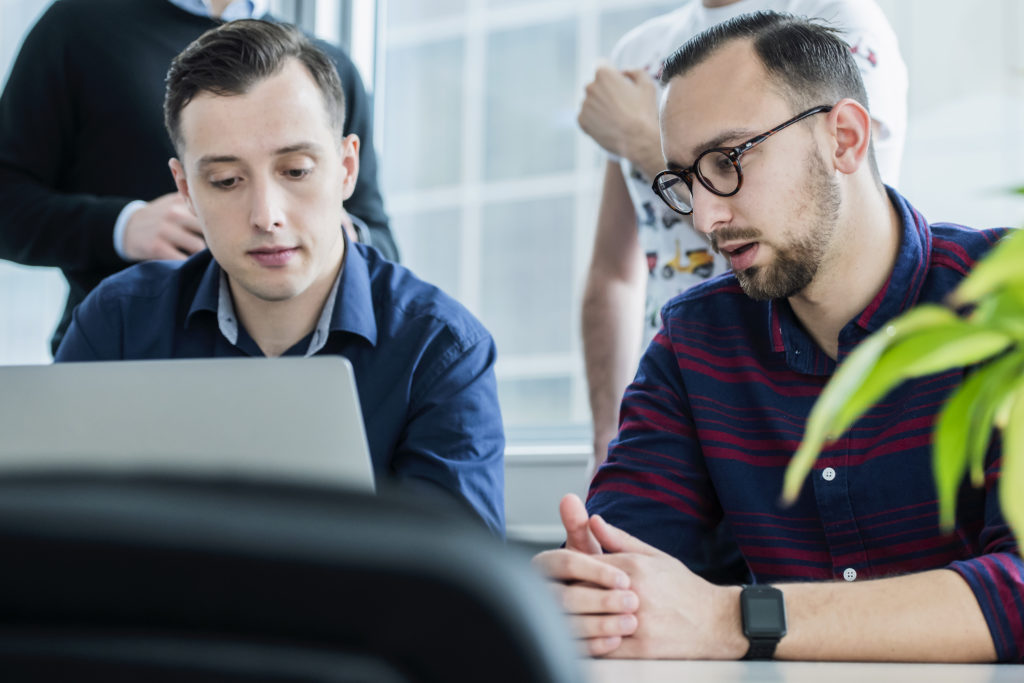 STEP 3: Check the company's portfolio and technologies
Apart from checking their reviews, always make sure to check the company's portfolio. Most of the companies have their portfolios available on their websites. What kind of projects have they worked on? What brands have they worked for? Is their work present in various sectors or are they specialized only in one sector?
Also, pay attention to the number of used technologies. If they list a ton of different technologies, think twice if they are real experts in all of those. Make sure that your future software house is really skillful in the used technology stack.
STEP 4: Be careful about pricing
Simply put, don't choose the cheapest option. When choosing the cheapest option on the market, you risk that your product will not be developed properly. Also, if you spend less money now, the chances are that you will end up spending so much money later fixing the mistakes.
Many companies also consider offshoring and Nearshoring . With offshoring, you pay a lower price, but there are almost guaranteed problems with communication, as well as time zones. Near shoring, on the other hand, has become very popular lately. Hiring a software house in a nearby country eliminates the problems of communication that you could have when offshoring your business with the benefit of possibly lower price then in your own country.
Also, always compare offers and, in the end, choose the company that is the most cost-effective. In other words, the company that has reasonable rates and a history of successfully delivered products.
STEP 5: Choose Agile Software House
Did you know that the idea of SCRUM was taken from rugby?
Just like rugby teams come together during the game to reevaluate their game plan, project teams do the same by managing and adapting their project outline during the development process. SCRUM project management is a framework for developing complex software solutions. Most of the successful IT teams work in SCRUM because it divides the whole development process into smaller sprints and therefore makes the whole process more transparent and easy-to-modify if needed.
Also, a great benefit for you as the client is that SCRUM allows you to manage the budget - you can see what has been done and how long it took for a specific feature to be developed. Last but not least, SCRUM allows you to take part actively and communicate with your project team all the way.
STEP 6: Security and safety issues
Make sure to clarify the ownership of the digital solution with the software house. Often, when the conditions of the agreement are unclear, the software house makes you lease the code from them (which is completely unacceptable from our point of view).
Also, check if the software house provides support services after the product is developed. These include configuration, software customization, and maintenance services. So, make sure you check these issues in order to know exactly what to expect at the end of the project development.
To make a long story short...
The quality of your future software depends on the quality and efficiency of your software development house. Take as much time as you need to research and compare your options and do not be afraid to reach out to companies directly for more information on their work. The steps mentioned above should serve as guidelines on what to pay attention to when looking for a software house. Remember, your business is only as strong as your software product!
If you have found these guidelines useful, we would be happy to provide you with more info and tips about choosing a software house. Reach out, no strings attached, and let us help you develop your digital solution.
26 Oct 2020