From the series: Digital Transformation: Understanding Tomorrow's Products and Services. Part 2.
Many companies ask themselves questions like these:
"How can the full potential of digitalization really be used?"
"What great opportunities digitalization has to offer?"
"How can the customer experience be improved or business areas be expanded and changed by a company?"
Due to their significant features, digital products offer a multitude of opportunities to create added value for customers, increase sales and increase differentiation characteristics to competitors.
We will go through the most important characteristics of digital products and their associated potential.
Important features of digital products and services
The most important characteristics of digital products such as music, e-books, videos, text/information or software are, above all, their duplicability, measurability, and scalability. Let us take a closer look at this by using the example of music:
1) Duplicability
As intangible goods, digital products can be duplicated as often as desired. Modern streaming providers offer music on demand - for any number of listeners, in any volume and anytime. On the other hand, a record or a CD, must first be produced, transported, and marketed before it can be used by the customer.
2) Measurability
The use of digital products can be measured extensively and in detail. A modern music streaming provider records the usage behaviour of its users. For example, it can identify which music tracks and genres are popular, at what times of the day music is frequently or less frequently listened to, or through which information/advertising channel the user became aware of the offer.
These measurement results are used to improve the digital offer in a targeted manner, to retain existing customers and to win new ones. For a classical record or CD, on the other hand, the analysis possibilities are much less extensive and usually just end with the recording of sales figures.
3) Scalability
The availability of digital products can be excellently scaled and dynamically adapted to demand. A music streaming provider, for example, will achieve the increase in music availability to a large extent by scaling its server infrastructure. For the scalability of classical records and CDs, new production and distribution capacities must be created, which can then be realized but more slowly and at higher costs.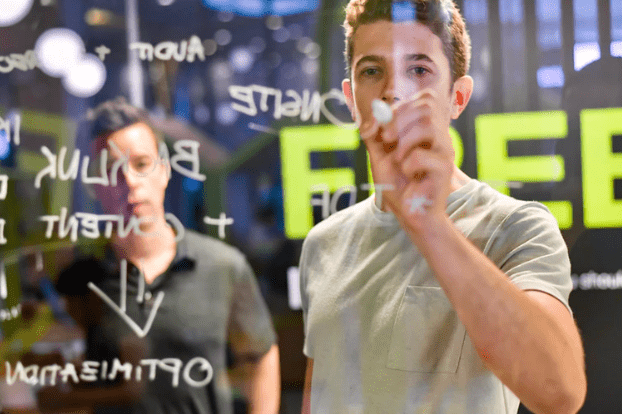 Using the advantages of digital products in the company
As it can be seen from the above example, digital products differ significantly from the classic ones. They offer excellent potential, which has to be recognised in order to be used for the further development of one's business models.
In the discussion with Bob Melchior Gornik (Senior Management Consultant at HDP Management Consulting GmbH) we talked about the advantages of these product features and their potentials:
1) Independence to lot size:
While in the classical product world the lot size always has to be considered for production, logistics and, ultimately, pricing, in the digital world the problem of lot size can be largely ignored. Digital availability also enables a faster and, above all, directly controllable go-to-market.
2) Comprehensive customer information:
Modern tracking tools make it possible to capture the complete customer journey, from awareness to the purchase phase and beyond, seamlessly and in detail. This ensures that the customer's behaviour is transparent and offers companies enormous potential for optimizing the product and its marketing. For example, the following questions can be answered:
Marketing process: Who is my target group? Through which channel do I reach my target group? How different digital marketing channels (e.g. AdWords, SEO, LinkedIn, Facebook, ...) perform? Which digital marketing channel generates the highest turnover?

Purchase process: What is the conversion and customer acquisition rate among my visitors? When do visitors abort the buying process? How much time do visitors spend on my digital offer and how long does the buying process take?

Product: Who uses my product? How long is my product used? Which functions are used most often? When is my product used? What errors occur when using the product?
3) Direct control options:
Based on the data concerning customer journey, marketing, the purchase process, and the product and its use, direct recommendations for action can be derived. This not only helps to optimize processes and measures, but also to identify and eliminate errors immediately or any other unexpected events caused by external factors.
For example, the address in advertising texts or their frequency can be adjusted immediately, and the usage paths in the sales process can be optimized or key product functions can be improved in a targeted manner based on usage data.
4) Faster & direct delivery:
The delivery of digital products and services is possible without a long delay. Depending on the internal process structure and optimization, provisioning resources can be scaled in a cost-optimized manner in a few seconds. This ensures the direct delivery of digital services around the globe in a short time - a feature that is impossible to get in the traditional product world.
We would be happy to support you and show you the potential for using the advantages of digital products and services individually for your business.
_____________________________________
In our articles on "Digital Transformation: Understanding Tomorrow's Products and Services", we will use examples, interviews, and case studies to explain how successful digital products and services can be implemented and operated. Other articles in this series: https://uhp.digital/digitale-transformation/
30 June 2020