During the last year, many businesses realized that being in the same office is not a necessary requirement for delivering a successful product. With so many people working remotely, outsourcing has become a popular model of work nowadays because it allows for faster and more efficient project completion, it is less risky, and it usually costs less.
Types of outsourcing
However, outsourcing implies different types and not all of them can ensure the same level of quality. Here are the two basic models of outsourcing:
Offshoring: This implies outsourcing the development of your digital product to partners from a completely different geographical location.

This usually means that the price of development is lower, but the time zone difference and the language barriers are often a disadvantage.


Nearshoring: This model implies outsourcing work to a development partner in a country near you.

This means there are no barriers such as different time zones or the language ones, in turn meaning there is no overtime and late shifts, communication runs smoothly and faster problem-solving is a plus.
Out of these two models, nearshoring is a much better option because it offers you a chance to get top talent from your near area that will help you to successfully tackle complex projects effectively and with less risk in short time.
In UHP, we offer three different types of nearshoring collaboration, each tailored to fit various clients' needs. These are:
Project based: We consult you to define the right scope, implement the UX&design, software development and rollout of your product.

Dedicated team: Our team of experts support your organization with the skills needed for the development of your digital product faster and in high quality.

Expert sourcing: We provide you with an expert to solve a specific problem in fields of UX, design or a wide range of software development.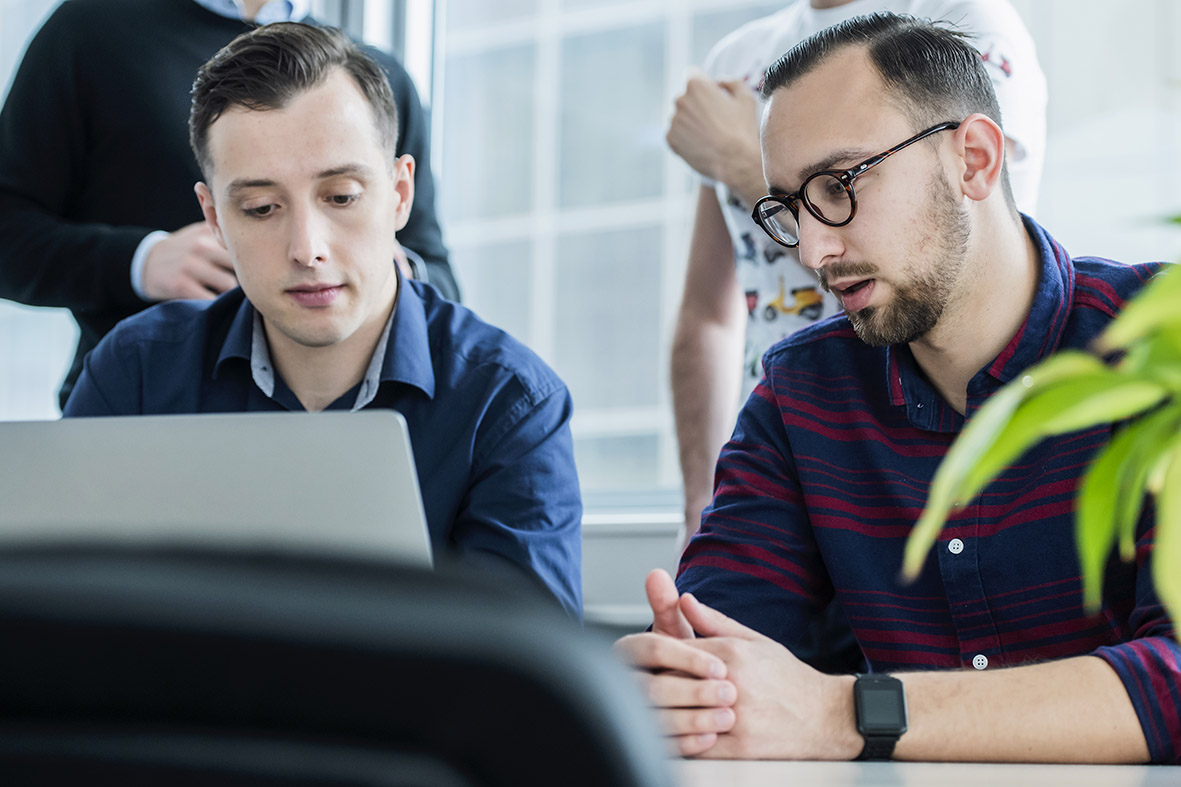 Why is there a need for nearshoring collaborations?
Nearshoring implies getting a team of developers, designers, quality assurance engineers (or any other profiles your project requires) who are committed to working for you only on one project 100% of their time.
They are not a separate team, rather they become an extension of your internal team.
When to consider nearshoring?
Here are some of the most common reasons companies decide on a nearshoring collaboration:
There are not enough skilled developers in your area
There is not enough time to go through the selection processes in order to hire different roles needed for the project
Current employees are inexperienced with the technologies needed for the new project
You are a startup in a need of software development partners
You are trying to expand to new markets and need development partners from that area
The advantages of nearshoring models
Speed and savings: Having extra skilled experts on board allows for scaling and faster progress since they are completely dedicated to your project.

Also, nearshoring saves you money since it is usually less expensive than the local software development vendors and you also save time and money on the recruiting and hiring.
Experienced and skilled experts: By hiring an external team, you get a pre-assembled team of industry experts that are able to successfully tackle complex projects and provide high-end quality results.
Flexibility: You can always change the scope or prolong the collaboration because the dedicated team working on your project is fully focused on one project and can take more workload if the scope changes.
Pre-assembled functioning team: When hiring an external team, you do not need to worry about recruiting and putting together a team from scratch.

Recruiting costs time and money and there is also a chance that the newly hired team members will not be able to cooperate well.

With this concept, you get a well-functioning team that has all the necessary skills needed for successful project completion.
Dedication and transparency: Since the new team becomes an extension of your team, this means you will get daily progress reports and will be fully informed.

In turn, the dedicated team will be truly involved in all your processes and will get to know all aspects of your company, allowing for more transparent communication and more commitment to the project.


One point of contact and one invoice: There will always be a German-based person of contact from the software development side who will keep you updated on the progress and the overall status of the project.

Also, from the provider's side, you will get a single invoice for all the services the dedicated team does for you.
How does this type of collaboration work?
No matter the type of collaboration you choose, we have an elaborated process that ensures all your requirements will be met. Also, during the whole collaboration, a dedicated German point of contact will be at your disposal at any time.
Kickoff introduction meeting: During the workshop, we define the project requirements, needs, technical skills needed and specific developers' profiles.

This is the most important step in the process since it allows for the client and the software development provider to understand the scope of the project better and the type of developers needed.
Candidate selection: We, the development provider, assemble the team according to your needs and you receive their resumes to see what specific skills and knowledge they possess.

The candidates then go through an in-depth screening with your team to see if they meet your requirements.
Onboarding: After the team is assembled, the onboarding process usually takes place online (but it can be done in your offices, too).
During the onboarding, the external dedicated team meets your other employees and learns more about the company culture, which allows for better connection and establishing trustworthiness.
After the onboarding is done, the external dedicated team can start working on your project, participate in all daily meetings, and become an extended part of your company.
To conclude…
The nearshoring models are the perfect types of collaboration if you have a software project that requires specific skills and knowledge.

The team is dedicated to one project entirely which ensures they will be deeply involved and focused on the project and that in turn ensures the quality of the end product.
If you are interested in this type of collaboration, our skilled team has plenty of experience in successfully tackling various complex projects, so we ensure a high quality end result.

For a free team call and consulting, contact us here.
12 May 2021